A Spa Could Cost Less..Or More Than You Think
We see a lot of people online asking this question and to be perfectly honest it is the wrong question to be asking.
The truth is there are way too many types of hot tubs from the inflatable spas-in-a-box, to all copper luxury spas to really answer that question properly.
Asking how much a hot tub actually costs is too broad, so we need to define the different segments and categories of spas on the market.
That is what we intend to do in the article.
What this article will NOT be is a condemnation or endorsement for any specific tub. Even though we sell a certain line of spas here at Precision we will not get into comparisons….just facts.
You can bet that the prices paid for all of those spas above varied wildly based on the type of spas that were bought.
In order to figure out how much a new spa is going to cost you you are going to have to define your wants, needs and expectations for you hot tub experience.
Below we are going to break through the different levels of "hot bubbly water containers" and review prices of products in each category.
Category 1 – Temporary and Portable Spas
Our first category on the hot tub price expedition brings us to the entry level no frills portable spas which include soft tubs and even cheaper inflatable hot tubs.
The inflatable tubs have a lot going for them, they are super portable, don't require any wiring and they can be had for super cheap.
You won't get many hydrotherapy benefits and there are no real seats in this spa you basically sit on the floor with your friends in a literal hot tub of water.
They generally consists of 2 parts, like a pool set up they have the main vessel that holds the water (and you!), then there usually is a separate equipment pack that gets attached to the spa. Therefore you have to not only account for the space the hot tub takes up but also the large equipment pack that runs it.
The inflatable hot tubs will set you back anywhere from $450-$1,500.00
Category 2 – Plastic Hot Tubs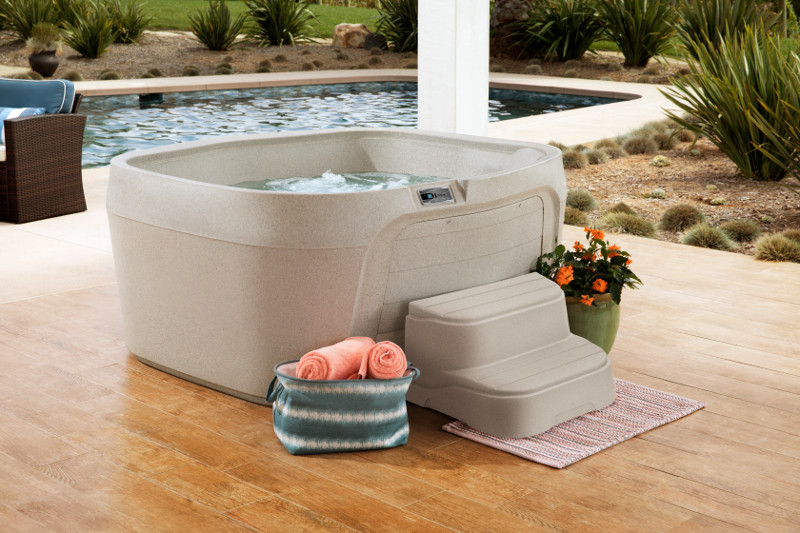 One innovation in the spa industry the last few years was the introduction of rotationally molded plastic hot tubs. This new process of molding large objects from forms by way of a 360 degree tumbler made its way into the hot tub space by way of Dream Maker spas, and now a lot of the large manufactures have added rotomolded spas to their line up. In fact, Watkins Manufacturing, makers of Hot Springs Spas and Caldera, own 2 different rotomolded lines. One of which, Freeflow Spas, we sell here at Precision Pool in Amesbury.
The great thing about these plastic spas is the structure will last forever. However some of the entry level rotomolded spas do not use real heaters, they use the ambient heat created by the jet pumps. This means they heat up very slowly and because most of them are not insulated they cost upwards of $50 a month to run.
One of the reasons we went with Freeflow Spas is due to the fact they use full flow through heaters and real 120gpm pumps.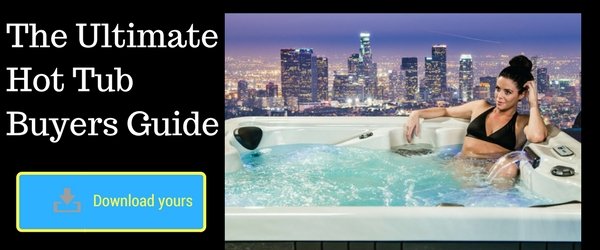 Recently companies like Watkins, have created higher end plastic tubs (Freeflow Spas) which have real spa equipment, and full foam insulation. Most all rotomolded spas are 110v plug and play so no need for expensive electrical hook up and you have a very nice entry level product.
Most spa dealers carry some sort of rotomolded spa as well, so unlike blow up spas you will have experienced industry pros to back you up on this purchase.
Rotomolded spas can range anywhere from $1,999 – $5,500
Category 3 – Acrylic Spas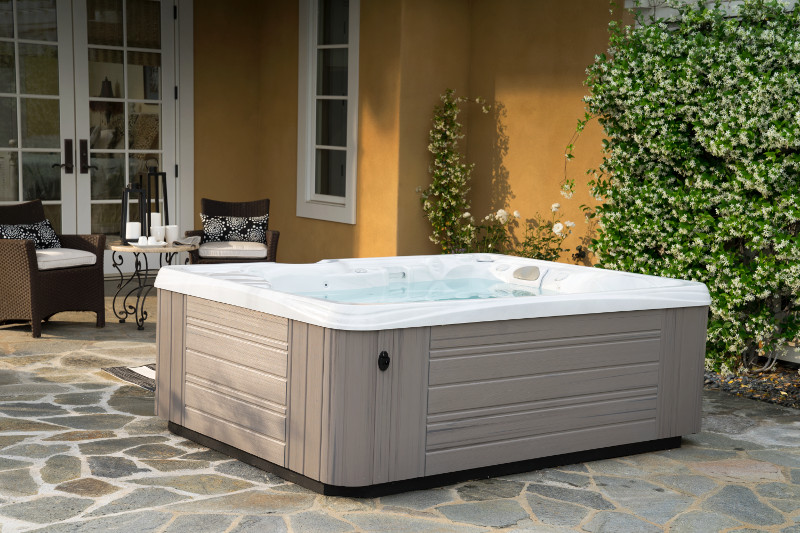 When we talk about hot tubs and spas in the traditional sense over the past 30 years they are defined by an acrylic shell with a wooden cabinet or frame.
This is the point of our spa price search journey where the gaps really open up. There are so many acrylic spa manufactures offering so many options that a breakdown of quality in this category is an article in itself.
Right now in our showroom we have traditional acrylic hot tubs ranging from $4,000 to $15,000!
So what we are going to do here is break this down into 3. easy to understand, spa price points.
Entry Level Acrylic Spas: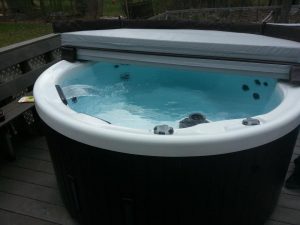 At this level we usually see spas with nice aesthetically pleasing shells and cabinets but in limited color choices.
Most likely have little to no insulation
Basic non contoured seating
Single speed pumps
1 filter
Very simple controls
More for family fun than hydrotherapy – sellers will usually try and sell these spas based on the fancy lights and waterfalls
1 maybe 2 year warranty
Price points: $2995 – $5995
Mid-Level Acrylic Spas:
At this point we usually see an increase in the manufacturer's warranty, more color choices, and more standard features.
Light foam or thermal layer insulation
Might have Ozone sanitation might be optional
Will always have at least 1 dual speed pump
Bigger spas will have 2 filters instead of 1
Very basic seating layouts, basic body contours to the seating
Will offer a higher level of hydrotherapy and jetting options than entry level, like adjustable jets, better flow diverters, etc.
usually a 2-3 year warranty
Price Points: $4,995- $7,995
High-End Acrylic Spas: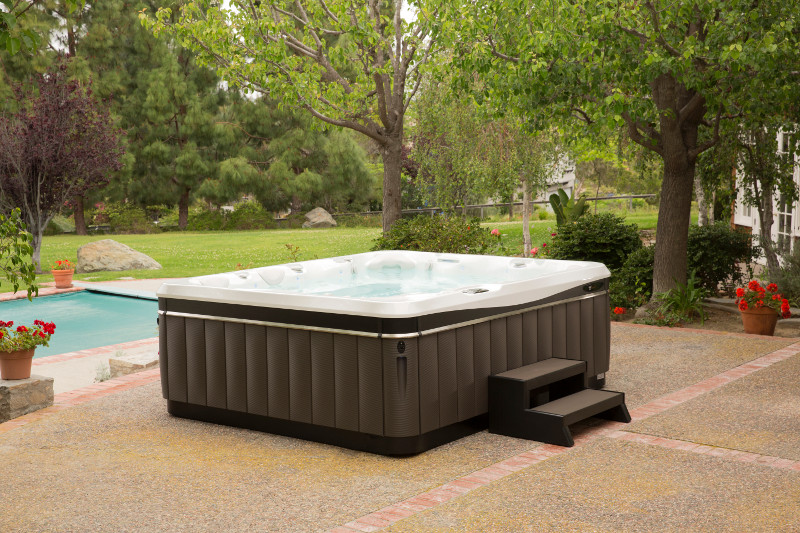 When you are searching for a top of the line spas of the likes of Marquis, Hot Spring, Sundance, Caldera and Jacuzzi you are going to get a lot of standard features and much longer warranties.
You know you are looking at a high end hot tub just by looking at the seating. It is elegantly contoured to hug the body and position you in front of their high output massage jets. The fit and finish of the jets, lighting, and spa controls feels like a luxury automobile.
Looking for an energy efficient and hi-tech hydrotherapy spa experience? Read our article about new spa technology here: Marquis Spas: Pushing New Technology
One thing to point out, most high end manufactures who craft the best hydrotherapy hot tubs in the industry also carry spas in the entry level and mid level price range. Most spa dealers will display a mix of spas cover all price points.
Features of High End Luxury Spas
Full foam closed cell insulation
Ozone or UV sanitation system standard
100% adjustable jets with exclusive therapy systems
Highly detailed and unique shell molds'
Well designed contoured seating with sophisticated layouts
Classy and ultra durable spa cabinets
Easy to operate large LCD screen spa controls with optional wifi control
All pumps will be dual speed
Sealed bottom base so there is no exposed foam or structure
2 filters
Many color options
5 year warranty
Price points: $6,500- $15,000
Find What Spa Best Suits Your Needs
As you can see it is tough to ask a broad question like how much do hot tubs cost, without knowing how wide a range of options you have. In this article we started our search with $500 blow up spas and ended with $12,000 full featured acrylic hot tubs.
When starting your search really take time to think about why you are buying a hot tub. Just looking for a nice novelty entertainment piece for parties?
Or are you one of the millions of people looking to hot tub hydrotherapy for its many health benefits?
We urge you to take a look at your needs in a spa purchase and place value on those needs and then start looking at prices, that is when you will make the right hot tub purchase for you.