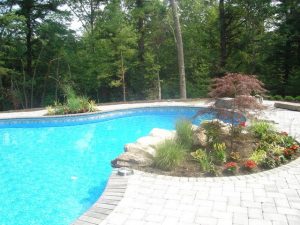 No in-ground pool feature has  more of a dramatic affect on your backyard then the pool deck. It used to be that vinyl liner pools suffered from ugly white aluminum coping and lackluster pool decking.  Now we use special cantilever coping edges to provide seamless transitions into beautiful pool patios that really make the pool the backyard center piece it should be.
Lets face it, after you add the grill, patio furniture, and maybe a fire pit, you end up spending much more time out 'by the pool' then 'in the pool'. This makes choosing the right pool deck  one of the most important decisions during the pool building process.
There are quite a few options available for pool decking, below are some of  the different decking options you have as well as approximate pricing for each.
Standard Brushed concrete appx. $6.50 -$8.00 sq/ft
Standard concrete offers a nice clean look  and is the least expensive option available. I will point out in this particular picture we are not seeing a cantilever edge, instead it is a concrete receptor coping. Cantilever edges that are seen in the remaining photos are available in standard concrete as well.
Stamped concrete appx. $10-$12 sq/ft
This pool features a textured grey stamped concrete with a cantilever edge. The concrete is colored and imprinted while it sets for a great custom look.
Exposed aggregate appx. $10.50 – $12.00 sq/ft
Exposed aggregate is our most popular decking option. Utilizing natural river stone mixed into the concrete. Aggregate has many different colors to choose from as well.
Paver patio blocks appx. $14 – $17.00 sq/ft
Paver patios are the most expensive decking option but also offers the most variety. Using custom stones you can create any feel you want with patio block decks and there are some great options for stone coping edges to create a great border around the pool.
There are many variations on all decking options seen above and I encourage you to check out our pool galleries to view more pool decks and designs.  Also you can view more decks by our friends over at Triad Associates who install  our poured patio decks.
After the pool itself the pool deck is the most expensive part of the in-ground pool installation, and you really should take some time to decide exactly what option fits your needs, style, and budget. If you are in the North SHore Massachusetts area or Seacoast NH and are interested in installing a pool learn more about what we do at Precision Pool Construction: Inground Pools MA
If you have any questions or comments you can contact us here or leave a reply below, we would love to hear from you.