Not All Vinyl Liners Are Blue!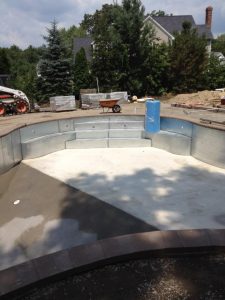 The pool pictured above is a current project of ours in progress in Salem New Hampshire. It includes a 18′ x 29′ x36′ lagoon in-ground pool with a set of really sweet vinyl covered radius steel steps with sitting bench extension. In the early days of vinyl liner pools installing such an intricate pool such as a lagoon would be nearly impossible without some wrinkles in the liner. Now not only can we do that but we can design and build custom stairs, benches, spa decks, swim-outs and more. This allows us as a vinyl liner pool builder to create beautiful custom pools that match up to much more expensive gunite pools without and limitations or sacrifices.
The picture above shows the steps before the liner goes in. Also as you can see in the photo we have a roll of 1/4″ blue foam which we will be putting on top of the steel before we put the liner over the bench step. This makes it nice and soft for walking and sitting.
In the video below Precision Pool owner Greg Broyer gives a quick tour of the pool and shows off the radius bench step, and talks a little bit about fitting, and filling a vinyl liner pool to ensure a perfect wrinkle free fit. You also see fellow owner Sean Canning on the Bobcat in the background grading the yard to prepare for more paver patio that is currently being installed by our crew.
You will also notice a unique feature of this particular liner, its not blue! Thats right your vinyl liner pool does not have to be blue, there a many color choices and patterns to choose from. The next pool we will be building will actually have a black granite styled liner, which we can't wait to see how that looks. What I like about this liner is the border pattern seems to match very well to the coping stones and the new Techo-Bloc wall we installed back near the house. Also you notice the natural color to the water you get with this pattern which is different then the usual blues you get with vinyl.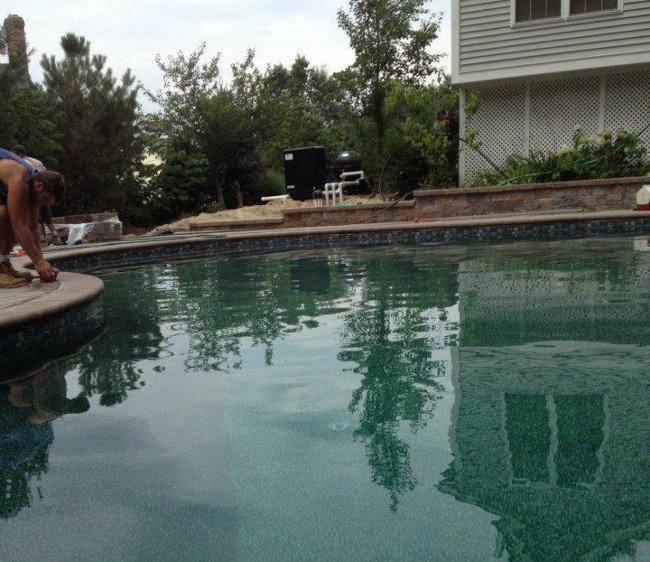 Update: Video Tour of completed project!
Salem NH Completed In-ground Pool and Patio Project Video Tour
In the video below we take a better look at this awesome customer pool and patio installation with Precision Pool owner Sean Canning. Just like in the video above notice how all the colors flow together, how the water has a much more natural look. The customer was thrilled with the way this all came together and had a great summer coming down the pool slide and hanging out on their customer pool steps.
In this job we created a natural stone fire pit area with rocks taken right from the dig, as well as found apicked out the perfect deep end jump rock. The jump rock gives a great natural decoration but also is a safe place for the kids to jump and dive into the pool. Home insurance will treat you a lot better with a jump rock than a diving board.
This project really showcased how we can design and construct an entire outdoor living space around the in-gound pool installation. From the patio, natural stone features, fire pit, black aluminum fence, it all comes together.