Electrical Hook UP requirements for Hot tubs
A new portable hot tub installation requires 2 things a place to put it, and electricity. Last week we covered the type of base needed for a hot tub, this week I want to go over what you will need to get your new spa all powered up.
First and foremost I must point out while we know how hot tubs are wired we ARE NOT ELECTRICIANS here at Precision Pool Construction, a spa can only be wired by a licensed electrician. We work with a handful of great electricians in the Amesbury and greater North Shore Massachusetts area who do great work and we can match you up with a capable company when you buy your hot tub.
Standard Spa Electrical Requirements:
Most spas in the industry require the following to run properly.
220v
30 or 50amps
Hard wired 4 wire gfci breaker shutoff
There are some spas which are 'plug and play', meaning they can be plugged right into a regular 110v wall socket with no electrician needed. They generally come with their own pre-wired gfci plug. These types of tubs are only 1 pump usually only 1.5hp and can take longer to heat up initially, but still a great option for those on a budget or limited electric availability.
In Massachusetts and NH we have a lot of older homes with older electrical setups. Before installation of your new hot tub you should have an electrician check to see if you have a big enough electrical panel to fit a 50amp service. Some older homes may only have a 100amp panel and may need to be upgraded to a 200amp panel before the spa can be wired up properly.
The wiring required wiring to the tub is typically 6 or 8 gauge 4 220v cable. This consists of 2 hots, a neutral and a ground wire.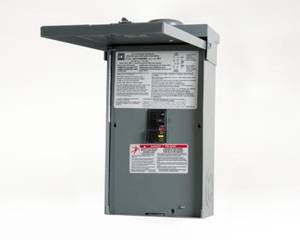 This wire must then be connected to its own dedicated gfci breaker WITHIN VISIBLE RANGE OF THE SPA. Notice that last part, it's very important. The hot tub can NOT be wired directly to the inside breaker on your main panel, it must first go to its own outdoor gfi box near the spa. This box must have its own switch and also you must be able to see that shutoff switch from inside the spa.
I hope this brief article will help you prepare for your new hot tub installation. The 220v service a spa requires is dangerous to work with and we only recommend being installed by a licensed electrician. Again we can provide a local installer for you that we can coordinate with directly for when we deliver your new hot tub.
If you have any questions please leave a comment below or contact us here and we will get back to you as soon as possible.