A Closer Look at Our New Hot Tubs Precision Pool Amesbury MA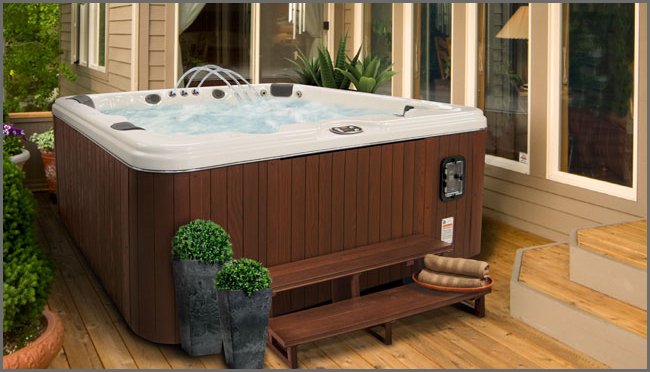 First and foremost I must say we are really excited to be back in the spa business here at Precision Pool. I have always enjoyed selling hot tubs as I feel my customers can get so much out of them as far as entertainment and their health and wellness.
In 2012 the growing success of our pool and patio construction business has let us invest more into our retail store and more specifically Coleman Spas. What was once a somewhat disorganized parts area is now a full-fledged spa showroom. We have 5 spas on display as well as our spa chemicals, Leisure concepts accessories, and a large assortment of spa fragrances.
Over the next couple weeks I would like to give you a little more information about the new 2012 Coleman Spas and go a little more in-depth into what you're getting when you purchase one, whether it be from us here in Amesbury Massachusetts or another Coleman dealer anywhere in the country.
2012 Coleman Product Line:
In 2012 Coleman Spas offers 13 great hot tubs covering all shapes sizes and price points (not including swim spas). 9 spas are in the main acrylic line and 4 are in their new rotomold plastic spa line, which gives you 4 spas under $6,000. Whether you are looking for a simple round spa or a powerful 8 foot dual lounger they have you covered.
Coleman Spa Form and Styling: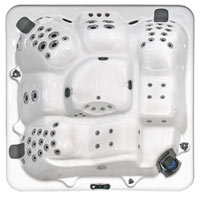 The first thing I want to talk about in regards to the form of a spa is the seating and mold of the acrylic. These spas are cut nice and deep, so much so that their 7 foot tubs sometimes feel like 8 foot tubs. This also allows the bather to sit nice in deep into the lounge seats and corner spots, giving plenty of immersion into the hot water. Cutting the spa's deep gives you a much more comfortable sitting situation so your knees aren't up in your face while you are trying to enjoy a nice therapeutic massage.
Overall I think Coleman got it right on their molds and seat layouts, these are really comfortable and roomy spas.
New Spa Shell Colors for 2012:
New this year from Coleman is their upgraded acrylic shell stylings. A much needed upgrade to their line they went from flat colors to shells with a bit of marble swirl built in to give them a more reflective and vibrant look.
Jet Uprgade kits:

The stainless steel jet covers are stock on all spas which is great as not all companies will give you that look standard, it is usually an expensive upgrade. However if you want to add a little bit of flavor to those jet covers you can turn those stainless steel jets to deep red for what I call the "transformer spa look", some my like it some won't I personally think it looks pretty nice.
As well as the red jet cover upgrade you can also choose to light up your jets with the LED upgrade pack. The spa comes standard with one super bright multi-color LED light that will light up the whole spa, but more lights can always be better! In the jet light upgrade every jet in your spa will have a built in LED light, as well as all your valves on top of the spa, giving you some great mood lighting when you are hot-tubing at night.
Hot Tub Water Feature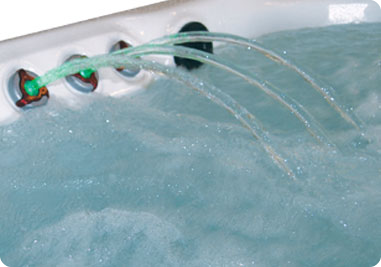 One standard feature that I am sure will stand out with customers are their LED backlit water fountains. What you get with every coleman model is 3 red styled jets each with its own led backlight that will shoot an arching fountain into the center of the spa. It's great when you are tubing by yourself or with one other, as you get the soft glow of the LED lights as well as the soothing sound of the water feature. Obviously if someone is sitting in that seat there is a valve to turn the water feature off.
Hot Tub Entertainment:

Last but not least, everyone wants some tunes when they are relaxing out in the hot tub and Coleman embraces the future with this feature. Lots of spas will give you a car radio or boat radio cd player option with built in speakers, but CD's are kind of dated aren't they?
Coleman saw that most people now days have the music they wanted on either; an ipod, iphone or android. You can order any spa in the line with an optional iSound Ipod docking station so you can have your tunes out in the spa with you. The great thing about the dock is it has a nice safe enclosure system keeping all the electronics out of the environment, which is key. A lot of times on spas we have trouble with the car/boat radio cd player set-ups getting moisture in them and shutting down.
I have to save from the moment I saw these tubs at a trade show in Dallas Texas this past January I thought they were one of the better looking hot tubs I had seen. Coleman put a lot of work into making sure these spas really impress on the showroom floor.
So for the great shell colors, stock LED lighting and water feature, and finally the optional jet lights and ipod dock I have to give the Coleman line an 8/10 for form and style!