8 Ideas To Upgrade Your Backyard
Courtesy of PAVESTONE http://www.pavestone.com
After a long winter when things start turning green again, all we want to do is find ways to spend more time outside. However there always seems to be work to do to really make your outdoor living environment a true getaway at home. Below we will take a look at some ideas that really add fun and functionality to your backyard living.
1. The Warmth of Fire
Fire has been bringing humans together since the stone age, there is just something about the dancing flame and the warmth that brings people together. Want to extend those summertime cookouts into the evening hours? A fire pit might be just what your backyard needs.
Techo bloc firepit Rowely MA
Fire pit on pool job Merrimac MA
Marquis Eseries 545 and fire pit Amesbury
You can always grab a metal log firepit from the big box stores, but why not think bigger? Custom hardscape firepits can be added easily to your new patio project. Or how about make the fire pit the centerpiece of a new paver patio, with a nice sitting wall for everyone to gather round?
2. Custom Hardscapes
You have a nice deck off the house, and a good grassy yard, but something is still missing? Extend your outdoor space off the wood deck with a custom paver patio. A nice 12×16 stone patio off the deck is a great way to extend your outdoor living space. Add some more dimension by adding multiple levels or terraces, and stone pillars to end cap pathways.
3. Deep Seating Outdoor Furniture
If you have not noticed patio furniture has evolved! No longer just a picnic table and benches. Now people are creating outdoor spaces that resemble their living room inside. If you have a big family and entertain a lot consider and outdoor wicker sectional with Sunbrella or other weather resistant fabric.
Another great option for outdoor furniture's HDPE or envirowood composite type materials. These pieces are made from 100% recycled materials like milk jugs and laundry detergent bottles. They look great and last forever. They can be pricey but you never have to replace them.
4. Light Up The Yard With Landscape Lighting
pic courtesy of http://kglandscape.com
Landscape lighting is another category that has come a long way in recent years. Now you can actually work with landscape lighting consultants to help really bring your yard to life when the sun goes down. Think beyond the path lighting , now you can get LED tiki torches ! They give you the cool beach feel of the tiki torch without the flame.
You can also take advantage of your existing landscape and think about up-lighting that old tree, or shrubs by the house to really spotlight your beautiful landscaping all times a day.
5. Add the Tranquility of Moving Water
You may think because we are a pool company I am going to say add a pool or a hot tub to your backyard, right? Well that would be all too obvious… (and true, you should totally get a hot tub or pool)! However, there are other ways to add water features to your backyard that don't involve a $60,000 project.
Small water gardens can be a great outdoor DIY project, using landscape rocks on your property or bought at the landscape supply company you can build a small water feature that will add beauty and calming sounds of running water to your backyard vignette.
Self contained water fountains are an easy way to add a small water feature to your garden, all you will need is a water source and power for the small fountain pump.
6. Add Style and Shade with Pergolas
Everyone loves the sunshine, but when planning and upgrade to your backyard design make sure you plan for some shade. A great way to add dimension to your design as well as keep you out of the UV rays is a patio pergola.
This can be placed just about anywhere, over your dining area, grill island, or even over your hot tub!
7. An Ultimate Backyard BBQ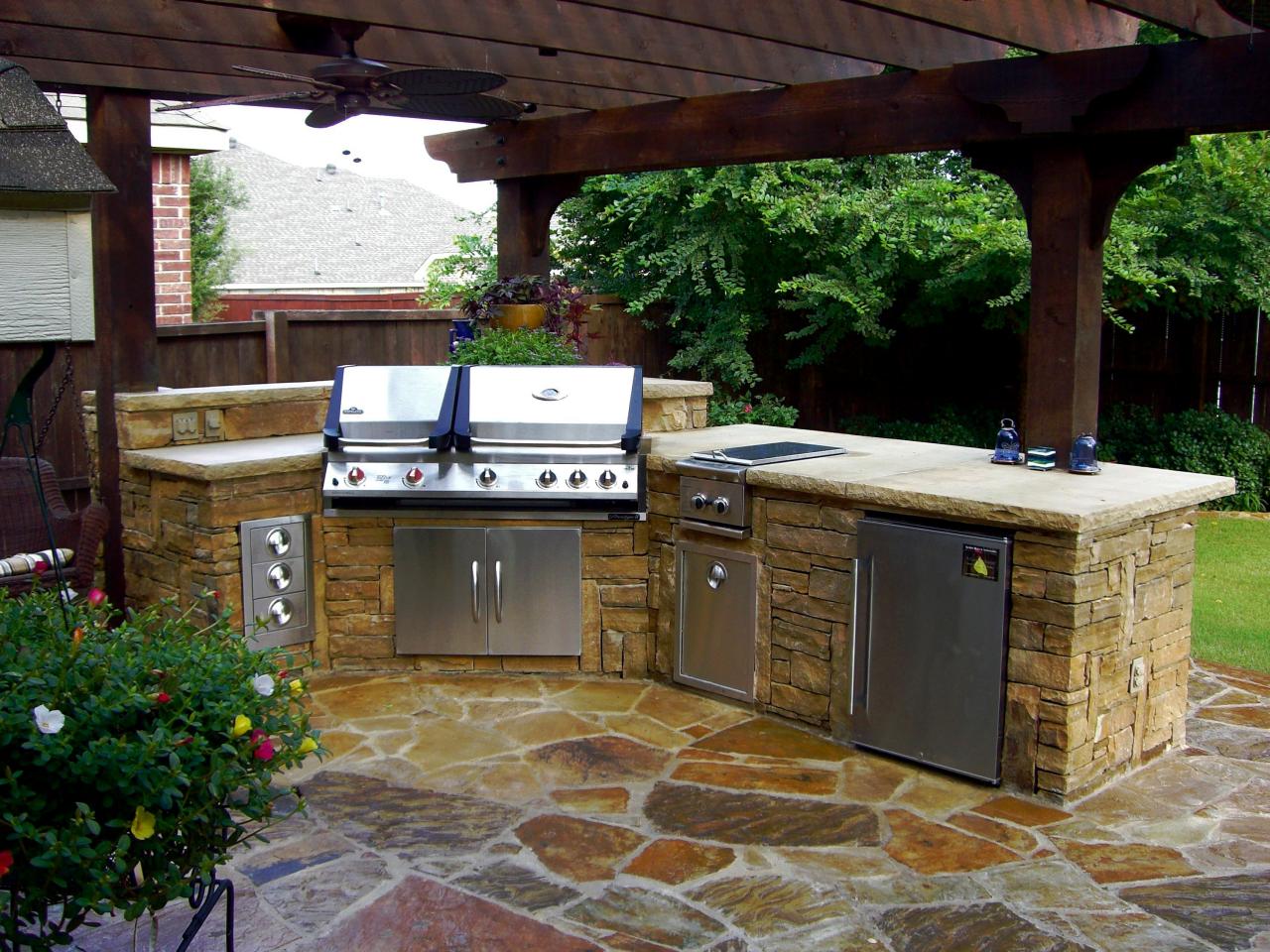 Courtesy of HGTV
No backyard is complete without the grill! One of the most popular trends in outdoor living is the addition of complete outdoor kitchens. Think about it, you have your grill to cook the best bbq your wannabe grill master can cook up, a fridge to keep all the go to drinks cold, and plenty of counter space to lay out the spread. Sounds like the perfect way to complete your outdoor living space.
8. The Man Shed
Forget Man Caves, Backyard Bar Sheds Are the New Trend. This Gorgeous DIY Proves It.
Yup it's a thing, not quite a tool shed, and not quite a pool house. Man sheds (or woman sheds too) are the new hangout spot that gets guys out of the basement. This is great if your pool area or regular outdoor entertaining space is a bit further away from your house. You can run power and plumbing out there and set up a tv, poker table, half bath, and of course a bar!
So what backyard project are you going to tackle this year?
A new pool or hot tub make great outdoor centerpiece but as you can see from the list above, there are many ways to truly complete your outdoor experience. From simple to full blow construction projects, these ideas are surefire ways to impress the neighbors.