Shopping Small and Saving Big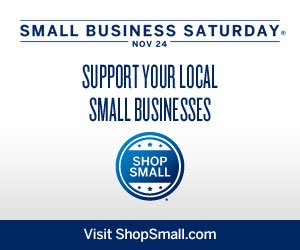 Ahh the holiday season as arrived, seems to come quicker every year….am I right? It's a short week, we have a great day of food and family on Thursday, and then…………utter madness!! Black Friday, Cyber Monday the craziness begins. While the big box stores and online retailers will have your attention on Friday and Monday, there is another very special and very important day in between, Small Business Saturday. If you are unfamilar with this new holiday shopping tradition I urge you to check out shopsmall.com. It is a venture started last year by American Express as way to promote the good ole mom and pop retailers that make up a majority of the business in the United States (don't worry this won't get political).
This year small business Saturday takes place on November 24th and we at Precision Pool want to get involved this year. Yes we are a pool store, and yes it is November…but we still have plenty of good stuff to offer and to be honest this blog post isn't as much about that as it is about getting the word out to support my fellow local businesses here in Amesbury, Haverhill, Newburyport, and all the other small Massachusetts towns around us. It is important that we as consumers do not forget about all the great shops, restaurants and other businesses that operate in our neighborhood and run by our friends and neighbors. Will some of the items be a little bit more $$$? Maybe, But we must not forget that it is these businesses that keep our small town economy rolling.
What is Precision Pool Offering on Small Business Saturday?
This time of year there are not many people buying pool supplies but that does not mean we still don't have customers in here everyday. We have plenty of spa/hot tube chemicals and accessories in stock, great deals on floor model hot tubs, and the world famous Big Green Egg smoker & grill.
Saturdays Deals & Specials
20% off all spa chemicals & accessories
$50 gift certificates for $40 – $100 for $85
$50 off all Big Green Egg grills and grill packages
FREE steps and cover lifters with any hot tub purchase (floor models already insanely discounted!)
See Our Specials ON Foursquare.com!
Food & Drinks
I'll also pull out our own Big Green Egg to grill up delicious chicken wings and sausages! The Egg makes a great holiday gift and would be the perfect cooker for your holiday parties and meals.
Support Local Business All Year Long
Small businesses like ours are on the front lines of the economy everyday, we don't complain, actually for me its exciting the challenge of growing a business but its not easy sometimes. We greatly encourage you to go on Facebook, twitter, google plus, foursquare, pinterest, or any other social media hub of your choice and let everyone know no matter where they live that this Saturday is Small Business Saturday. See if you can find that gift on you list at a local shop. Also it doesn't have to be one day a year we would encourage you seek out value over price when you shop for any goods, chances are the mom and pop will give you better service, more knowledge and who knows it might not be that much more expensive then the big box after all.
I really wanted to point out some great local businesses in our neck of the woods here in Amesbury but it would be hard to acknowledge all of them. That is why I will leave that to you in the comments section. If you are a local business or a consumer who plans on shopping local this Saturday I urge you to leave a comment below with a link to the business and let us know whats going on this Small Business Saturday.
Have a happy Thanksgiving everyone!