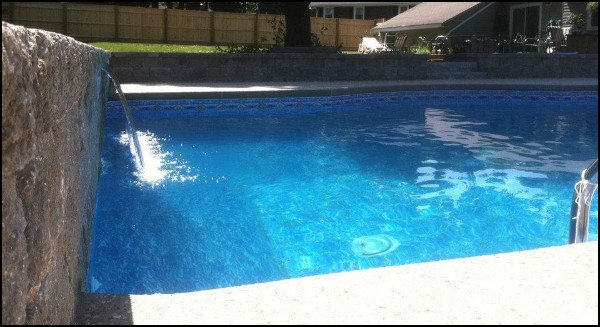 Well it's that time of year to look back at 2012 and more importantly look ahead to 2013. Every industry blogger from tech, web, and yes even the pool industry is doing the year end wrap so I thought I would lend my 2 cents into the year ahead in vinyl liner pool construction.
Here at Precision Pool we are always confusing people with our designs, so many customers after looking at our website think we build gunite pools! This I say is a compliment. If we can design and build a swimming pool in your backyard that looks, feels and functions like a gunite pool for $10-$20,000 less, I think we are doing pretty good.
In order to keep that trend going we need to continually innovate and push what a vinyl liner pool can do. In 2012 we did a lot of new things here, things that I think will be more of the norm in 2013. Below I have laid out a few features in vinyl pool design that are going to take the product to an even higher level.
SpaDecks
The gunite pool industry currently calls these tanning shelf's, we decided to name it a SpaDeck. Basically what we did is build a set of vinyl covered steel steps and extend the 2nd step out anywhere from 4-6'. This makes a nice little wading or seating area that's great for adults watching the kids in the pool.
Then you add some of these awesome ledge loungers and it really makes for a great feature!
We built a few of these in 2012 and we see the trend doubling with our pools in 2013. We can build them into a straight full width rectangle step or a radius step in a lagoon, or oasis shaped design.
What we then do is add 4-8 clean out jets, tie in an air blower and you have a mini spa in the pool. This is why we make our tanning shelfs a few inches deeper than in a gunite pool and call it a SpaDeck.
Variable Speed Pumps
I have talked a lot about the benefits of variable speed energy efficient pumps on this blog but 2012 was really the first year we saw them take a foothold in vinyl liner pools. It's probably because we made them standard on all of our new pools.
The upfront costs of this pump may scare away a standard vinyl liner pool builder who is trying to compete, but the energy savings cost make the addition of a pump like the Intellipro from Pentair make this a no-brainer addition to EVERY POOL built in 2013. We are talking about savings of hundreds of dollars in electricity compared to a single speed motor, and the State of Massachusetts like many others gives customers a $200 rebate for buying one.
Pool Automation
Until now pool automation controls have been reserved for the super high end gunite or commercial pool installation. In 2013 I see pool remotes becoming a big trend. Roy Harrison from Hayward Pool Products puts it best,
"If a homeowner spends $50-$100,000 on their back yard pool area shouldn't it come with a remote?"
Yes Roy it should!
Pool automation is not just a slick gimmick to impress your friends with either, it is a viable ease of use and money savings utility. This is especially true if you are adding water features, slides, and attached spas to your installation. Nobody wants to be cranking valves open and closed to work their pools, pushing a button seems to make more sense.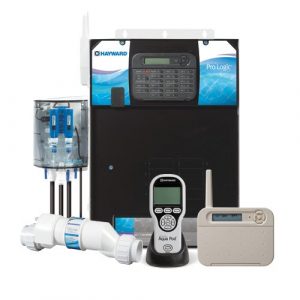 Think of it this way, you are home and the kids have their friends over swimming in the pool, they come over and say they want to use the pool slide.
You could
A: walk over, try to remember which valve controls the slide and which way to turn it, unlock the valve and crank it open, turn your variable speed pump up o get enough flow to run the slide and then viola! you have your slide on.
Or,/p>
B) Pick up your pool remote sitting on the kitchen counter and press the….wait for it…….. "Slide" button!
Your call.
That is just one of the uses for pool automation, which is now priced reasonably enough to be included in more residential vinyl pool installations.
Natural colored liners
Nothing determines the look and feel of a vinyl liner pool more than, well…….the liner! In 2012 we saw a couple of great additions to Lathams liner pattern choices that when designed properly make for a beautiful natural looking vinyl liner pool.
Our favorite this year had to be the black liner roman end pool we built in Merrimac MA this year. The water looks so clear and inviting and it blends in perfectly with the rest of the backyard design. In order not to disrupt the natural look we use black faceplates of the in-floor cleaning system heads as well as the bottom drain. We also used gray skimmer faceplates to blend into the blue/gray granite pattern.
Top this off with a gray diving board and a gray exposed aggregate deck, THAT GLOWS IN THE DARK BTW….and it looks like a $100,000 gunite pebble-tech finish.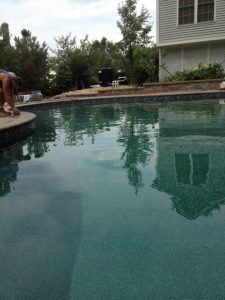 The second liner pattern that worked out well for us was the beige liner with natural stone border. Now if this liner is not installed into a project where all the other design elements come together, it will look bad….really bad. When you match the color of the liner to the paver coping stone, retaining wall, faceplates, and even the slide, to the liner pattern it makes for one of the most beautiful backyards we have ever built at Precision Pool.
< < This pool was built in Salem NH this summer
When we show these picture to 2013 pool prospects we expect to expand on the natural liner trend for sure next season.
Water Feature Colored Lighting

We do a lot of in pool LED color lighting in our pools, however this one is kind of wild card. Why you ask? Because we actually have not done it yet. Landscape lighting always seems to be the last thing anyone thinks of when designing their backyard. This past year we partnered up with Troy Landscape lighting to make sure that was not the case, and installed quite a bit of lighting in our pool patio areas.
I would like to see this carried a little further though in the vinyl liner pool design trends of 2013. There is nothing more beautiful then backlit waterfalls, deck jets, and lED lamina's flowing at night around your pool. Lighting just adds so much drama to a space and I would really like to see more pool builders go big with this idea. They do it a lot in the higher end gunite world, but I am sure we can figure more reasonably priced solutions for the liner pool market.
Pentair is in on this trend this year with their small scale LED light and we will be adding their shallow depth colored lights to our SpaDeck option in 2013. I can not wait to shoot some pics and video once we do that!
These are just a few things we will be tackling in our 2013 vinyl liner pools here in Massachusetts and New Hampshire, and I am sure their are plenty of vinyl builders around the country looking to push the limits just the same.
If you are a homeowner thinking of a new in-ground pool this summer don't limit yourself to what you think a vinyl liner pool is. You can have a back yard just as luxurious for a reasonable budget, do we build 6 figure backyards with vinyl, yes but a lot of these things can just as easily be added to a $50-60,000 job as well.
Make sure to check our our in-ground pool section to learn more about what we do here at Precision.