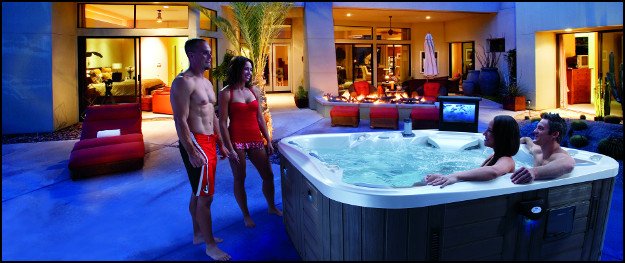 What's In Store For 2013 Spas?
The veteran Portland OR based hot tub manufacturer Marquis Spas has always been on the cutting edge of high end spas since their inception in 1980. 2013 is set up to be another great year with fresh new designs and some new spa technology sure to turn some heads.
New Models and Entry Level Spa Lines
Before we dive into the new spa-tech Marquis is introducing some new updated models, molds, and a new entry level hot tub line to the market in 2013.
Signature Series Resort –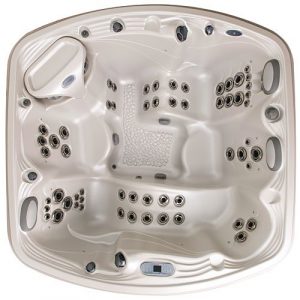 The Resort is a new 7 foot spa in the Signature series line, their high end offering. It is 85.5"x85.5" with a lounger and seating for 5 people. The standout design concept of this spa is its curved sides giving it a sleek and modern rounded look. This adds to many of Marquis' interestingly shaped spas like the Wish, Spirit, and the 2 person Rendezvous. With 60 jets and 2 320gpm high flow pumps this is a beast of a tub, and the company claims one of its best performing hydrotherapy models.
New Eseries Molds –
The Eseries spas has been a secondary line for Marquis Spas that lowers the cost of entry into their product line-up without sacrificing performance. This year they up the ante with all new design molds that rival their high end Signature series counterparts. With sleek geometric designed acrylic molds Marquis has modeled this line off the Cadilac CTS series and it has nailed it!
Now when you walk into a Marquis showroom in 2013 spa dealers like Precision Pool in Amesbury Massachusetts will be able to display 2 high end hot tub lines from Marquis Spas with the Eseries and Signature spas.
Celebrity Hot Tubs Entry Level Spas –
Because the Eseries line has in years past been a higher end model at a lower price point Marquis needed to be able to offer customers a series of spas at the entry level price point. What they have done in 2013 is produce the new Celebrity line. It consists of 4 models, 2 shell colors, and 2 cabinet color options. So you don't get as many color choice options and these spas are made to be simple yet quality hot tub for families or empty nesters. You will not get things like ozone sanitation or foam insulation in these spas like their higher end counterparts but the still perform beautifully, and you will not find nicer acrylic molds in these price points.
New Hot Tub Technology
For years high end hot tubs have given customers things like colored LED lighting, ozone sanitation, stereo systems and even TV's in their spas, but Marquis is one of only a small handful of the best spas manufacturers who will be pushing the innovation of spa technology in 2013.
A Mobile App for Your Spa-
(see our article on hot tub mobile apps here > )
In 2013 all Marquis Signature Series and Eseries spas will be able to have included an optional wifi adapter to work with the new Marquis iphone/ipad app.
The app allows local control and monitoring of basic spa functions. It is produced by Balboa Water Group a leading in hot tub controls and equipment. Marquis is one of the first manufacturers to roll out Balboas app on their spas. The app provides local control over wifi only, so it can only be used within your home network (for now). We are told that internet connectivity will be coming in the future which will allow for control over your hot tub from anywhere.
Bring The Spa Resort Experience To a New Level With MicroSilk-
MicroSilk could be a game changer in the hot tub industry. When it comes to bringing the home spa lifestyle to your home this hydrotherapy technology from the high end bath industry could a huge addition.
Using a separate motor to grind up air molecules and inject them into your spa these super fine bubbles have been touted as the fountain of youth for how it heals and treats your skin. The health benefits of MicroSilk technology has been proven to increase collagen production and increase levels of serotonin. The bubbles produced by this technology are so small they can actually penetrate your pores and clean out impurities leaving your skin with a silk smooth feeling. Balboa says "It's like a facial for your entire body" this is sure to be a hit with the female spa buying population.
Elevating The Hot Tub Experience
As you can see with the introduction of technologies like MicroSilk and Wifi app control as well as Marquis Spas new molds and models the Portland OR hot tub manufacture is dedicated to delivering The Ultimate Hot Tub Experience to your home. Marquis is constantly mentioned as one of the top spa builders on trusted hot tub industry authority sites like http://www.spasearch.org <-do some research there before you buy.